The Apartment Hohe Strasse 10 / first floor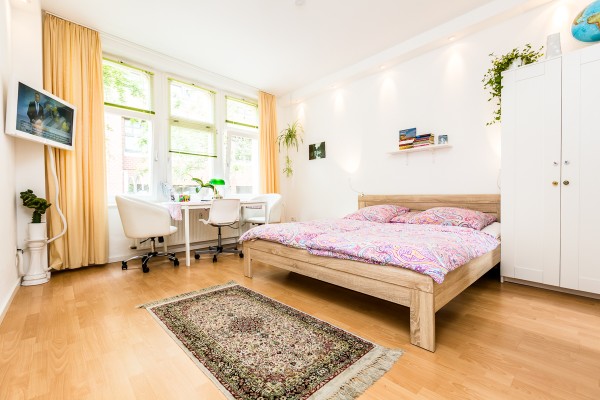 You are located in central Cologne in a landmarket building.
This is the only building that remains since world war 2 on "Hohe Strasse".
It's right in one of the main shopping streets in Cologne
and only 10 minutes walking distance from the world famous cathetral.
Shops and restaurants are right on the spot.
The apartment is on the first floor (no elevator) and 34 square meters.
The green balcony is towards the silent atrium.
one double bed.
Fully equipped kitchen with microwave, freezer, coffee maschine as well as.
Washing machine with dryer.
Daylight bathroom with shower.
TV (german canals) W-Lan for free.
Car Park across the Street, 15 € charge per Day.
Arrival
The route from the station to the Apartment please follows the link below:
https://maps.google.de/maps?saddr=Bahnhofsvorplatz,+K%C3%B6ln&daddr=Hohe+Stra%C3%9Fe+
10,+K%C3%B6ln&hl=de&ie=UTF8&sll=50.9367,6.95499&sspn=0
.015767,0.039353&geocode=FcpQCQMdLilqAClPYNw7pSW_RzE_fQy
bthmDMg%3BFXYyCQMdIyVqACndrFR0siW_RzGtOEnvca3hjg&oq=hohe&dirflg=w&mra=ltm&t=m&
If you arrive by car you will find some Parking Garages close to the Apartment.
Please follow the link below:
https://maps.google.de/maps?saddr=Hohe+Stra%C3%9Fe+10,+K%C3%B6ln&daddr=C%C3%A4cilienstra%
C3%9Fe%2FL111&hl=de&ie=UTF8&sll=50.93489,6.956357&sspn=0.001971,0.004919&geocode=FXYyCQMdIy
VqACndrFR0siW_RzGtOEnvca3hjg%3BFUU1CQMdriNqAA&dirflg=w&mra=dme&mrsp=1&sz=18&t=m&z=18