The Apartment in the Siegburger Strasse 25-27, ground floor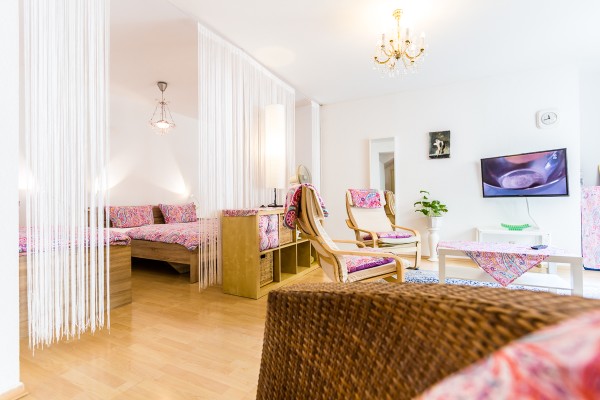 In heart of Cologne, at the "Deutzer Brücke" (bridge) and between "Messe" (Fair Trade) and oldtown.
Very lovely citypart, very central. 10 minutes walking to the old twon of Cologne. (Altstadt)
The apartment is on the ground floor and is around 42 qm.
There is a double bed of 180 x 200 cm, with separated blankets.
and there is also a single bed (90 x 200 cm).
You also have a fully equipped kitchen with a stove, microwave, refrigerator,
coffee machine and more. There is also a TV. hairdryer, iron, hoover an a washmachine with dryer.
There are some guarded parking garages about 500 Meters from the apartment, for about 16 € per day.
The studio is incl. coffee, tea, water, milk and it s also incl. towels and bedlinen.
and also incl. (USB-internet)
so you don t need to use any taxi, busses or trams, because of the central location.
Here you have free wi-fi.
Lage
Arrival
The route from the station to the Apartment please follow the link below:
https://maps.google.com/maps?saddr=Deutzer+Bahnhof,+Ottoplatz,+K%C3%B6ln,+
Deutschland&daddr=Siegburger+Stra%C3%9Fe+25-27,+K%C3%B6ln,+Deutschland&hl
=de&ie=UTF8&ll=50.938527,6.968443&
spn=0.007883,0.019805&sll=50.937716,6.973207&sspn=0.007883,0.019805&geocode
=FetJCQMd6GtqACFbIdrBQjm5bymb2RUrxiW_RzFbIdrBQjm5bw%3BFT84CQMdGl9qAC
n3eu7sySW_RzFff0eaKYEzUA&oq=bah&dirflg=w&mra=ltm&t=m&z=16
If you arrive by car you will find some Parking Garages close to the Apartment.
Please follow the link below:
https://maps.google.com/maps?saddr=Deutz-M%C3%BClheimer+Stra%C3%9Fe%2FL188&daddr=Siegburger+Stra%C3%9Fe+25-27,+K%C3%B6ln,+Deutschland&hl=de&ie=UTF8&ll=50.938852,6.973164&spn=0.007883,0.019805&sll=50.938216,6.974065&ss
pn=0.007883,0.019805&geoc ode=FR1FCQMd_3xqAA%3BFT84CQMdGl9qACn3eu7sySW_RzFff0eaKYEzUA&oq=bah&dirflg=w&mra=
dme&mrsp=0&sz=16&t=m&z=16